Products by brandname
Online testing
About Sensitest
Calculate ovulation
Calculate your ovulation with our ovulation calculator. Calculate online your fertile days.
Shipping cost
€2,50 Netherlands
€2,50 Belgium
€2,50 France
€2,50 España
€2,50 Portugal
€2,50 Deutschland
€2,50 United Kingdom
€2,50 Ireland
€2,50 Europe

These are our standard shipping cost. Some items that will be delivered by courier may have a different shipping cost.
Fast delivery
Same day shipping. On weekdays ordered and paid before 17.30 hrs your order will be shipped the same day. Delivery in the Netherlands, Belgium, Spain, usually within 1-2 weekdays. Rest of Europe between 2-5 days.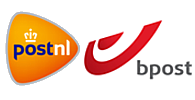 Anti spam policy
Click here for all articles:
Return to the index of all the questions
Anti spam policy
Question about: Sensitest
Sensitest does not spread unwanted emails. In addition, we reject the practice of sending unsolicited e-mail. When placing an order a valid email address is required for sending your order confirmation. That way you get a receipt of your order. Furthermore, we keep you updated on the status of your order via e-mail, such as the time of packing and the date of shipment. So you know exactly where your order is. When placing your order you can indicate whether you allow us to add your email address to a senders listing. If you indicate that you only wish to receive e-mails about the status of the order processing we respect that choice and will not send more emails after your order has been shipped. If you indicate that you would like to receive offers in our shop once a month you will receive up to 1 e-mail with promotional products each month. With each mailing is immediately possible to remove your email address from the database via a direct link. The data you enter when placing an order remains confidential and will not be sold, traded or given away to third parties. You`ll never receive unwanted mail Sensitest. If you have any questions please contact our customer service via contact.