Products by brandname
Online testing
About Sensitest
Calculate ovulation
Calculate your ovulation with our ovulation calculator. Calculate online your fertile days.
Shipping cost
€2,50 Netherlands
€2,50 Belgium
€2,50 France
€2,50 España
€2,50 Portugal
€2,50 Deutschland
€2,50 United Kingdom
€2,50 Ireland
€2,50 Europe

These are our standard shipping cost. Some items that will be delivered by courier may have a different shipping cost.
Fast delivery
Same day shipping. On weekdays ordered and paid before 17.30 hrs your order will be shipped the same day. Delivery in the Netherlands, Belgium, Spain, usually within 1-2 weekdays. Rest of Europe between 2-5 days.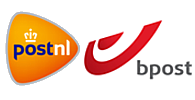 Privacy policy
Click here for all articles:
Return to the index of all the questions
Privacy policy
Question about: Sensitest
Sensitest respects the privacy of all customers and visitors to its web store and ensures that the personal information you give us will be treated confidentially. To place an order it is important that you share some information with us like the address where you want your order to be delivered and the email address to which messages are sent on the status of your order. Your data will only be used to process your order as soon as possible. Sensitest will not share or sell your personal data and will only supply necessary information to parties that are involved in processing your order.