Products by brandname
Online testing
About Sensitest
Calculate ovulation
Calculate your ovulation with our ovulation calculator. Calculate online your fertile days.
Shipping cost
€2,50 Netherlands
€2,50 Belgium
€2,50 France
€2,50 España
€2,50 Portugal
€2,50 Deutschland
€2,50 United Kingdom
€2,50 Ireland
€2,50 Europe

These are our standard shipping cost. Some items that will be delivered by courier may have a different shipping cost.
Fast delivery
Same day shipping. On weekdays ordered and paid before 17.30 hrs your order will be shipped the same day. Delivery in the Netherlands, Belgium, Spain, usually within 1-2 weekdays. Rest of Europe between 2-5 days.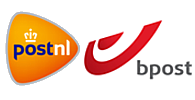 How fast will I receive my order?
Click here for all articles:
Return to the index of all the questions
How fast will I receive my order?
Question about: Sensitest
All packages are sent through TNT post. To the United Kingdom and Ireland they usually deliver within 2 to 3 days. To Belgium and Germany a package is delivered in about 2 to 3 days and in The Netherlands TNT delivers in 1 day. To most other European Union countries it will take about 3 to 5 days for a package to arrive. All packages sent within the European Union are sent with Priority Post for extra fast delivery. Unfortunatly we cannot guarantee that there will not be any delays in delivery due to the Post. On working days we guarantee to deliver your order at TNT within a few hours after receiving your payment for the fastest possible shipment.