Products by brandname
Online testing
About Sensitest
Calculate ovulation
Calculate your ovulation with our ovulation calculator. Calculate online your fertile days.
Shipping cost
€2,50 Netherlands
€2,50 Belgium
€2,50 France
€2,50 España
€2,50 Portugal
€2,50 Deutschland
€2,50 United Kingdom
€2,50 Ireland
€2,50 Europe

These are our standard shipping cost. Some items that will be delivered by courier may have a different shipping cost.
Fast delivery
Same day shipping. On weekdays ordered and paid before 17.30 hrs your order will be shipped the same day. Delivery in the Netherlands, Belgium, Spain, usually within 1-2 weekdays. Rest of Europe between 2-5 days.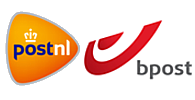 I do not receive an e-mail after ordering
Click here for all articles:
Return to the index of all the questions
I do not receive an e-mail after ordering
Question about: Sensitest
If you do not receive an e-mail after ordering and you are sure you typed in the right address, our automated e-mail may have landed in your spamfilter or the box unwanted messages. In that case check your spamfilter, try another e-mailaddress or contact us so we can send you the orderdetails again.