Products by brandname
Online testing
About Sensitest
Calculate ovulation
Calculate your ovulation with our ovulation calculator. Calculate online your fertile days.
Shipping cost
€2,50 Netherlands
€2,50 Belgium
€2,50 France
€2,50 España
€2,50 Portugal
€2,50 Deutschland
€2,50 United Kingdom
€2,50 Ireland
€2,50 Europe

These are our standard shipping cost. Some items that will be delivered by courier may have a different shipping cost.
Fast delivery
Same day shipping. On weekdays ordered and paid before 17.30 hrs your order will be shipped the same day. Delivery in the Netherlands, Belgium, Spain, usually within 1-2 weekdays. Rest of Europe between 2-5 days.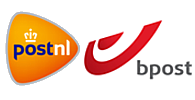 What happens when I get a light testresult?
Click here for all articles:
Return to the index of all the questions
What happens when I get a light testresult?
Question about: ovulationtest
How dark should a testline be with an ovulation test? That varies per person. De color depends on the concentration of the LH homone in your urine. The color can appear in the ovulation test from light pink to purple. When the concentration is between 15000 en 25000 IU/ml (international units per milliliter) the color of the testline will be darker than the contol line. When the concentration of the LH hormone in your urine is lower or the LH peak has passed, the testline will appear very light or not at all. In addition, if you test too early in your cycle, so before your LH peak, only a very light testline will appear or no testline at all.