Products by brandname
Online testing
About Sensitest
Calculate ovulation
Calculate your ovulation with our ovulation calculator. Calculate online your fertile days.
Shipping cost
€2,50 Netherlands
€2,50 Belgium
€2,50 France
€2,50 España
€2,50 Portugal
€2,50 Deutschland
€2,50 United Kingdom
€2,50 Ireland
€2,50 Europe

These are our standard shipping cost. Some items that will be delivered by courier may have a different shipping cost.
Fast delivery
Same day shipping. On weekdays ordered and paid before 17.30 hrs your order will be shipped the same day. Delivery in the Netherlands, Belgium, Spain, usually within 1-2 weekdays. Rest of Europe between 2-5 days.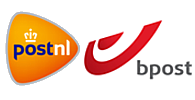 How to use ovulation test after miscarriage
Click here for all articles:
Return to the index of all the questions
How to use ovulation test after miscarriage
Question about: ovulationtest
It takes around 9 weeks after confinement or miscarriage before the HCG pregnancy hormone has disappeared entirely from your body. Shortly after a miscarriage, high concentrations of the LH and HCG hormone can be found in your urine. The ovulation test gives a positive result with 2 dark lines during this period, although you may not have a LH peak in your cycle. Up to that point also a pregnancy test produces a positive result although you are not pregnant.