Products by brandname
Online testing
About Sensitest
Calculate ovulation
Calculate your ovulation with our ovulation calculator. Calculate online your fertile days.
Shipping cost
€2,50 Netherlands
€2,50 Belgium
€2,50 France
€2,50 España
€2,50 Portugal
€2,50 Deutschland
€2,50 United Kingdom
€2,50 Ireland
€2,50 Europe

These are our standard shipping cost. Some items that will be delivered by courier may have a different shipping cost.
Fast delivery
Same day shipping. On weekdays ordered and paid before 17.30 hrs your order will be shipped the same day. Delivery in the Netherlands, Belgium, Spain, usually within 1-2 weekdays. Rest of Europe between 2-5 days.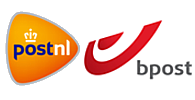 Opinie
Sensitest Pregnancy test midstream
(Last 2 reviews)
Customer satisfaction: Nog geen reacties binnengekomen.
Customer satisfaction:

satisfied
I would surely recommend it to everyone. Fast delivery and a good product, easy to use and reliable.

Den Haag
30 jun 2016 22:27
Customer satisfaction:

very satisfied
I have done three test, all positive. I am happy
13 jun 2016 19:42