Products by brandname
Online testing
About Sensitest
Calculate ovulation
Calculate your ovulation with our ovulation calculator. Calculate online your fertile days.
Shipping cost
€2,50 Netherlands
€2,50 Belgium
€2,50 France
€2,50 España
€2,50 Portugal
€2,50 Deutschland
€2,50 United Kingdom
€2,50 Ireland
€2,50 Europe

These are our standard shipping cost. Some items that will be delivered by courier may have a different shipping cost.
Fast delivery
Same day shipping. On weekdays ordered and paid before 17.30 hrs your order will be shipped the same day. Delivery in the Netherlands, Belgium, Spain, usually within 1-2 weekdays. Rest of Europe between 2-5 days.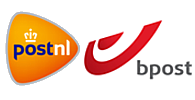 Digital ovulation thermometer












Digital ovulation thermometer with an increased accuracy. This thermometer measures your body temperature down to the hundredth degree precise and is therefore very suitable to determine if ovulation has occurred. The display of the thermometer indicates the temperature with two decimal places. The Sensitest Ovulation thermometer is accurate to one hundredth degree Celsius, much more accurate than a standard digital thermometer. This ovulation thermometer is more sensitive and has a clear digital display and a memory for the last measurement. This digital thermometer is particularly suitable in order to determine small variations in body temperature. It can also be used as a highly accurate thermometer. The ovulation thermometer comes with a handy plastic storage case. In addition, now you get the ovulation thermometer and an instruction and a calendar to keep your temperature.
Description of the article
Product type
Thermometer
Article code
se-ovutherm
Use when
To find your ovulation
Availability
Expected 23 dec 2020
Shipping cost
Standard shippingcost (€ 2.50)
Our price
€ 4,99


Products selected for you
Ovulationtest

Sensitest
Ovulationtest
If you want to get pregnant

From € 0.49


Packagedeals

Sensitest
Packagedeals
If you want to get pregnant

€ 25.99


Ovulationtest

Clearblue
Ovulationtest
If you want to get pregnant

€ 49.95