Products by brandname
Online testing
About Sensitest
Calculate ovulation
Calculate your ovulation with our ovulation calculator. Calculate online your fertile days.
Shipping cost
€2,50 Netherlands
€2,50 Belgium
€2,50 France
€2,50 España
€2,50 Portugal
€2,50 Deutschland
€2,50 United Kingdom
€2,50 Ireland
€2,50 Europe

These are our standard shipping cost. Some items that will be delivered by courier may have a different shipping cost.
Fast delivery
Same day shipping. On weekdays ordered and paid before 17.30 hrs your order will be shipped the same day. Delivery in the Netherlands, Belgium, Spain, usually within 1-2 weekdays. Rest of Europe between 2-5 days.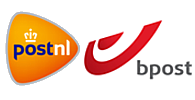 Sensitest Ovulation test cassette












De cassette is een betrouwbare test voor het vaststellen van je meest vruchtbare dagen en helpt je daarmee om zwanger te worden. Met de bijgeleverde pipet doseer je eenvoudig de juiste hoeveelheid urine in de cassette voor een nauwkeurig test resultaat. Speciaal ontwikkeld voor thuisgebruik. Het testresultaat is binnen 5 minuten af te lezen. De cassette is een voordelige en betrouwbare manier om uw ovulatie vast te stellen. Dit product wordt geleverd met een duidelijke Nederlandse gebruiksaanwijzing.
Description of the article
Sensitivity
Normal sensitivity
Product type
Ovulationtest
Reliability
More than 99%
Article code
se-lhcas
Use when
If you want to get pregnant
Use before
24 months
Availability
In stock
Shipping cost
Standard shippingcost (€ 2.50)
Our price
From € 13,99
Shipped today before 17.30 hrs


Read the instruction manual
Products selected for you
Packagedeals

Sensitest
Packagedeals
If you want to get pregnant

€ 25.99


Pregnancytest

Sensitest
Pregnancytest
From 4 days before missed period

Now € 5.99 pack 3 pieces


Ovulationtest

Sensitest
Ovulationtest
If you want to get pregnant

From € 0.49