Products by brandname
Online testing
About Sensitest
Calculate ovulation
Calculate your ovulation with our ovulation calculator. Calculate online your fertile days.
Shipping cost
€2,50 Netherlands
€2,50 Belgium
€2,50 France
€2,50 España
€2,50 Portugal
€2,50 Deutschland
€2,50 United Kingdom
€2,50 Ireland
€2,50 Europe

These are our standard shipping cost. Some items that will be delivered by courier may have a different shipping cost.
Fast delivery
Same day shipping. On weekdays ordered and paid before 17.30 hrs your order will be shipped the same day. Delivery in the Netherlands, Belgium, Spain, usually within 1-2 weekdays. Rest of Europe between 2-5 days.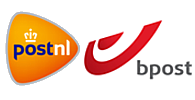 Aquasonic Ultrasound Doppler gel












Aquasonic ultrasound doppler gel is a special gel for use with fetal baby dopplers. The gel is hypoallergenic and easily dissolves in water. That makes it easy to wash the doppler gel from your skin. The Aquasonic gel improves the detection and sound of your baby`s heartbeat. The gel improves the conduction of the soundwaves through the skin. And gives a clearing beatig sound of the heart with less background noise of your unborn child. Only for external use on the skin. Special tube with 60 ml gel. Special price for 3 units.
Description of the article
Product type
Doppler Gel
Article code
aq-doppgel60
Use when
For use with a baby doppler
Use before
About 12 months
Availability
In stock
Shipping cost
Standard shippingcost (€ 2.50)
Our price
€ 5,45
Shipped today before 17.30 hrs


Products selected for you
Doppler

Sensitest
doppler
From 14 weeks of pregnancy

€ 29.95


Doppler

Sensitest
doppler
From 12-14 weeks of pregnancy

€ 69.95


Male fertility

SpermOK
Male fertility test
To test your male fertility

€ 19.95


Pregnancytest

Sensitest
Pregnancytest
From 4 days before missed period

From € 1,69 each