Products by brandname
Online testing
About Sensitest
Calculate ovulation
Calculate your ovulation with our ovulation calculator. Calculate online your fertile days.
Shipping cost
€2,50 Netherlands
€2,50 Belgium
€2,50 France
€2,50 España
€2,50 Portugal
€2,50 Deutschland
€2,50 United Kingdom
€2,50 Ireland
€2,50 Europe

These are our standard shipping cost. Some items that will be delivered by courier may have a different shipping cost.
Fast delivery
Same day shipping. On weekdays ordered and paid before 17.30 hrs your order will be shipped the same day. Delivery in the Netherlands, Belgium, Spain, usually within 1-2 weekdays. Rest of Europe between 2-5 days.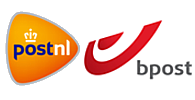 Sensibaby Early Pregnancy Test












Sensibaby early pregnancy test. Extra sensitive pregnancy test which allows you to test before your missed period. The pregnancy test has a sensitivity of 10 mIU/ml. This package contains 3 pregnancy tests for a better testresult. If you start to test before you expect your menstruation, keep one test for the day you expect your period.
Description of the article
Sensitivity
High sensitivity
Product type
Pregnancytest
Reliability
More than 99%
Article code
sb-zwdip
Use when
Early pregnancy test
Use before
Jan 2019
Availability
In stock
Shipping cost
Standard shippingcost (€ 2.50)
Our price
Now € 5.95 Pack 3 Pieces
Satisfaction
95.6%


Products selected for you
Pregnancytest

Sensitest
Pregnancytest
From 4 days before missed period

From € 1,69 each


Pregnancytest

Sensitest
Pregnancytest
From 4 days before missed period

Now € 5.99 pack 3 pieces


Ovulationtest

Sensitest
Ovulationtest
If you want to get pregnant

From € 0.49


Doppler

Sensitest
doppler
From 14 weeks of pregnancy

€ 29.95


Packagedeals

Sensitest
Packagedeals
If you want to get pregnant

€15.49