Products by brandname
Online testing
About Sensitest
Calculate ovulation
Calculate your ovulation with our ovulation calculator. Calculate online your fertile days.
Shipping cost
€2,50 Netherlands
€2,50 Belgium
€2,50 France
€2,50 Espaρa
€2,50 Portugal
€2,50 Deutschland
€2,50 United Kingdom
€2,50 Ireland
€2,50 Europe

These are our standard shipping cost. Some items that will be delivered by courier may have a different shipping cost.
Fast delivery
Same day shipping. On weekdays ordered and paid before 17.30 hrs your order will be shipped the same day. Delivery in the Netherlands, Belgium, Spain, usually within 1-2 weekdays. Rest of Europe between 2-5 days.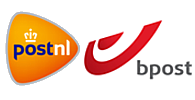 Joysbio Antigen Rapid Test Saliva












Joysbio antigen rapid test for corona with a simple saliva collection. The rapid test Antigen for Corona is now available immediately and is supplied VAT-free with your European vat-number (not NL). The Joysbio (Ag) rapid test for Corona/Covid-19 gives a test results for the Corona virus within 15 minutes. The saliva test has a very high reliability of more than 99% compared to a PCR test and is used worldwide as a rapid test to detect the Corona virus. This is a rapid test that can immediately detect the virus. The test is increasingly used at test locations where a nose / throat swab cannot be used. In the saliva test, a little bit of saliva is spat into a small bag. A few drops of this are mixed with a buffer and added droplets to the rapid test. This saliva test is not painful and easy to perform in adults and children.

Child-friendly

This test is child-friendly because the cotton swab does not have to go to the back of the throat or nasal cavity. This rapid test can be used for the first complaints of fever, sore throat or cold in the nose. The test result is quick and just as easy to read as a pregnancy test. With a cotton swab (nasal swab) a little nasal mucus is taken from the front of the nose in the `nasal nose picking area`. Then the cotton swab with the mucus sample is held in the supplied buffer liquid for a few seconds. You put 3 drops of the buffer liquid into the test cassette. You can read the test result within 15 minutes. The result is positive with 2 lines and the Corona virus has been found in the nose/throat mucus. The test has a high specificity of 98% and only responds to the Corona virus. With 1 line, the test result is negative or the concentration is too low for the threshold value of the test. Note, this is not a self-test. The antigen rapid test should be performed under the supervision of a medical professional. For example, a doctor, nurse, dentist, physiotherapist, health and safety doctor, company doctor, doctor`s assistant, pharmacist or psychologist.

What`s in a Joysbio saliva test kit?

The packaging consists of a box of 20 rapid tests with all accessories to perform the rapid test.
• 20 Joysbio rapid tests
• 20 bottles of buffer liquid
• 20 pipettes
• 20 extraction tubes
• 20 spit bags
• manual (English)
• quick instruction (Dutch / English)

Has this quick test been approved?

What validations does this antigen rapid test have:
• CE declaration of conformity for use in the European Union
• Registration in the Dutch register for medical devices Farmatec of the Ministry of Health (as an in vitro diagnostic tool).
• Validation Robert Koch Institute (RKI, DE) with very good test results (specificity 100.0% and sensitivity 95.1%).
• Rapid test meets the requirements of the World Health Orginization (WHO) for rapid tests for Covid-19 (specificity at least 97% and a sensitivity of at least 80%)
• Approved in Belgium as a rapid test by the FAGG
• Very suitable for companies and commercial test lanes
• View the documents on the download page for the Antigen Rapid Test Saliva for Corona

If you need more than 1000 pieces phone us for the best price offer: +31153642121.


Description of the article
Product type
Corona
Article code
jb-saliva
Use when
Rapid Test Saliva
Use before
24 months
Availability
Sold out
Shipping cost
€ 4.95
Our price
€ 2.40 (excl. Vat)
Satisfaction
99.0%


Products selected for you
Corona

Joysbio
Corona
Rapid Test Nasal

From € 2.25 (excl. vat)


Coronatest

Sensitest
Coronatest
Determining the Corona virus antibodies

€ 19,50


Corona

Sensitest
Corona
Medical type IIR

From € 0.12 each


Ovulationtest

Sensitest
Ovulationtest
If you want to get pregnant

From € 0.49


Thermometer

Sensitest
Thermometer
To find your ovulation

€ 4,99


Doppler

Sensitest
doppler
From 14 weeks of pregnancy

€ 29.95